Dr Mari Napari, a Research Fellow of the Electronic Materials and Devices group at the university, participated "V2019 Vacuum & Plasma" event in Dresden, Germany, organised by the European Society of Thin Films with 5 workshops, 80 industry exhibitors and ca. 400 participants. The 3-day event provided an excellent opportunity to engage with other thin film researchers and industry representatives.
Dr Napari gave an invited presentation in the workshop on Atomic Layer Deposition (ALD). The keynote talk "45 years of ALD" was delivered by Dr Tuomo Suntola, the inventor of ALD and winner of the 2018 Millennium Technology Prize. The workshop covered the most recent developments of ALD applications ranging from in situ metrology to optical coatings.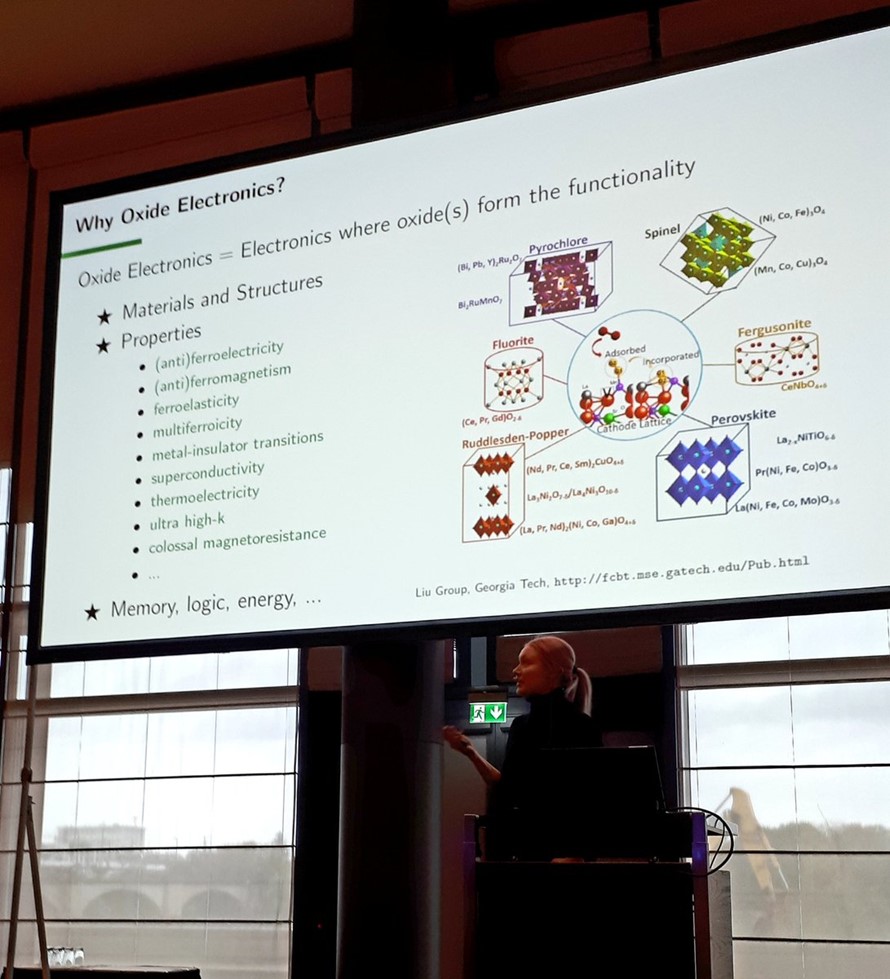 Pic - Mari Napari introducing oxide electronics                                               Photo credits: Jonas Sundqvist, Fraunhofer IKTS, Dresden, Germany
Dr Napari's talk was titled "Oxides for Electronics" where she presented the concept of oxide electronics and the prospects and challenges of ALD in fabrication of functional complex oxide thin films for future technologies. The talk was largely based on a review article "Towards Oxide Electronics - A Roadmap" (https://doi.org/10.1016/j.apsusc.2019.03.312), a final deliverable of a 4-year EU COST Action project that was recently running in Europe, involving several hundred scientists from 29 EU countries, and where Dr Napari wrote a chapter on ALD together with her previous supervisor Prof. Judith Driscoll from the University of Cambridge.
Pic 1: Dr Tuomo Suntola, Véronique Cremers (Plasma Electronic GmbH), and Dr Mari Napari